In Santhiya Institute we offer wide range of hairdressing services – from haircuts for women, men and children by day and evening updo and professional hair coloration or keratin hair straightening.
In our salon we engage Top Stylists with many years of experience, they are well-known not only for their exepctional skills but also for individual approach to every customer. 


Hairdressing is a real passion for them and every pleased client provides them a huge feeling of satisfaction.
We work with the best brands for hair coloration – Kemon and Alfaparf- products which keep a unique color and shine for a long time.
An excellent cut reflects our view to the world of hairdressing – in it you can find the source of our hairstyles ideas. We are keeping up to date with current trends, constantly developing and practicing in order to expectations of even the most demanding customer.
If you dream about original hairstyle, interesting haircut and beautiful, well-groomed hair, we invite you to visit Santhiya Institute.
Our hairdresser:
Anna Bajkowska.
There are severel her works: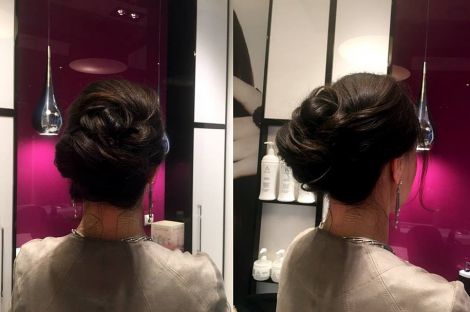 TOP STYLIST HAIR TREATMENTS



Haircut

Female haircut

80-120 PLN

daily styling gratis

Male haircut

50 PLN

daily styling gratis

Child haircut

30-60 PLN




Forelock

15 PLN

Beard trimming

20-40 PLN

Hair coloring

Coloring

190-270 PLN

haircut, styling and basic hair care gratis

Hair reflections

250-290 PLN

haircut, styling and basic hair care gratis

Baleyage

220-300 PLN

haircut, styling and basic hair care gratis

Ombre Hair coloring

from 360 PLN

haircut, styling and basic hair care gratis

Discoloration

short hair

80-140 PLN

medium-length hair

120-300 PLN

long hair

200-500 PLN

Gray-hair-cover for men

od 130 PLN

Hair styling

Daily styling

short hair

50 PLN

medium-length hair

70 PLN

long hair

90 PLN

Fancy styling

short hair

100 PLN

medium-length hair

120 PLN

long hair

160 PLN

Occasional styling

medium-length hair

160 PLN

long hair

200 PLN

Updo

150-300 PLN

Permanent hair straightening

300-500 PLN

Keratin hair straightening

short hair

370 PLN

medium-length hair

470 PLN

long hair

670 PLN

very long hair

870 PLN

Hair SPA and regeneration
Ampoule together with the treatment
Olaplex together with the treatment
SPA Reconstructor 
+ 60 PLN
+ 80 PLN 
80 PLN